The PECHET Studio is based in Vancouver, Canada. With a combined interest in art, architecture, landscape, and urban infrastructure we have created playgrounds, plazas, public art, cemeteries, houses, memorials, lighting, street furnishings, interiors, exhibitions, stage sets, and illustrations.
For every project we seek to uncover the sensorial, spatial, social, choreographic, and ritualistic potentials of a given situation. The goal is to expand a space into layers of experience and meaning beyond what is first perceived.
Our projects have been represented in national and international publications, exhibitions, performances, and lectures across Canada, the US, and in Japan. The studio has received awards from the Canada Council, the American and Canadian Societies of Landscape Architecture, the Province of British Columbia, and the AIBC. In 2006, under the banner of Pechet and Robb Art and Architecture, we represented Canada at the 2006 Venice Biennale in Architecture with our SweaterLodge project.
Currently the studio is working on two funeral halls, one in Canada and another in the US. We are also working with a team of biologists, hydrologists, and landscape architects towards the remediation of fish habitat that runs adjacent to an arts centre, just west of Toronto.
Oh yes, and there's a new book of illustrations coming out in 2022 called Lola Flies Alone.
Enjoy the website and all its offerings and please drop us a line.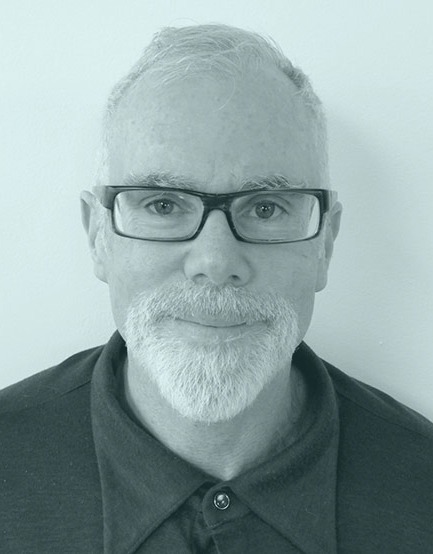 Bill Pechet, Ba, Bfa, Barch
Director, PECHET Studio
Bill received degrees in Geography and Visual Arts from the University of Victoria, in 1979 and 1981 respectively, followed by a professional degree in Architecture in 1987 from the University of British Columbia School of Architecture. In addition to his leadership in the studio, Bill has been a faculty member at the UBC School of Architecture and Landscape Architecture since 2000, and a frequent lecturer on issues of the urban built environment and the critical role that public space can play in the development of healthy and vibrant cities. In 2018, Bill won the Carter Wosk Award, the highest award in the province, for his creative achievements in local, national, and international milieus.
Studio Team
The following are all the remarkable people who contributed to the work in the PECHET Studio's portfolio:
Hanako Amaya
Jill Anholt
Rochelle Bacigalupo
Bryan Beca
Pearl Bellesen
Eric Boelling
Chris Boldt
Andrew Carnochan
Judith Cowan
Gabe Daly
Mark Dennis
Sandra Eng
Michael Fugeta
Charles Gardner
Thomas Gaudin
Mitch Gelber
Shauna Gillies-Smith
Jose Gonzolez
Jeff Gravenstein
Zahra Henderson-Peal
Matt Hessey
Scotty Keck
Cameron Koroluk
Margarita Krivolutskaya
Hiroshi Kurosaka
Herman Kao
Maureen Kwong
Cindy Lee
Ian Lowrie
Samuel McFaul
Esteban Matheus
Andrew Mclean
Matt McLeod
Heidi Nesbitt
Nicolas Osenton
Andrew Power
Stephanie Robb *
Warren Scheske
Jeremy Schipper
Steve Suchy
Tina Tajitsu
Shizuka Sasaki
Jay Gower-Taylor
Brian Wakelin
Ricky Ting
Lőrinc Vass
Sara Zonouzi




* Bill and Stephanie co-directed
Pechet and Robb Art and Architecture
from 1994–2011
Client and Gallery List
Alton Mill, Alton, ON
Aspac Developments Ltd., Vancouver, BC
Art Gallery of Ottawa
The Athinian Restaurant, Vancouver, BC
Ballet British Columbia, Vancouver, BC
Ballet of Monte Carlo, Monaco
Battery Opera, Vancouver, BC
City of Calgary, AB
City of Edmonton, AB
City of Hjørring, Denmark
City of New Westminster, BC
City of North Vancouver, BC
City of Qingdao, China
City of Richmond, BC
City of Surrey, BC
City of Toronto, ON
City of Vancouver, BC
City of Victoria, BC
City of Winnipeg, MB
Concord Pacific, Vancouver, BC
Dance Corps, Vancouver, BC
Danstabat, Vancouver, BC
District of West Vancouver, BC
District of North Vancouver, BC
Friends of Victory Square, Vancouver, BC
Gan Shalom Cemetery, Briones, CA
Hawthorne Charitable Foundation, Vancouver, BC
Helen Pitt Gallery, Vancouver, BC
Holy Body Tattoo Dance Co., Vancouver, BC
Home of Eternity Cemetery, Oakland, CA
Joe Ink Productions, Vancouver, BC
Kakali Handmade Papers, Vancouver, BC
Le Chateau Stores of Canada Ltd., Montreal, QC
Mai Wa Fabrics, Vancouver, BC
Manulife Financial, Toronto, ON
Mascall Dance, Vancouver, BC
Museum of Vancouver
Parklane homes, Vancouver, BC
Parks Canada, Quebec City, QC
Pedlar Press, St. John's, NL
Pinnacle International Inc., Vancouver, BC
PWL Partnership Landscape Architects, Inc.
Running The Goat Books And Broadsides, Torres Cove, NL
Sandwell Engineering Inc.
Sinai Memorial Chapels, San Francisco, CA
Sunshine Coast Regional District, BC
Royal Oak Burial Park, Saanich, BC
Studio 58, Langara College, Vancouver, BC
Surrey Arts Centre, Surrey, BC
Talmud Torah School, Vancouver, BC
Temple Sholom Cemetery, White Rock, BC
University Of British Columbia, Vancouver, BC
Vancouver Park Board, Vancouver, BC
Vancouver Art Gallery
West End Business Assoc., Vancouver, BC
Private Residential Clients
Grandview Woodlands, Vancouver, BC
Southlands, Vancouver, BC
Burnaby, BC
Victoria, BC
Gabriola Island, BC
Quadra Island, BC
Shaughnessy, Vancouver, BC
Dunbar, Vancouver, BC
Point Grey, Vancouver, BC
North Vancouver, BC